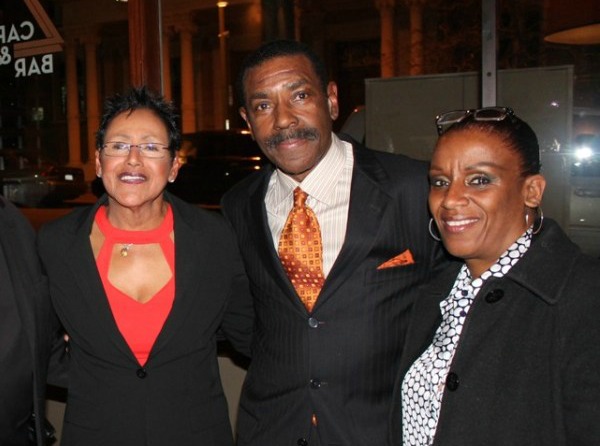 Elaine Brown, Keith Carson, and Desley Brooks in happier times
What Brown v. Brooks Means For Black Folk, Part 4

April 2, 2018
This is the fourth in a series of columns about the fallout from the 2015 confrontation between Oakland City Councilmember Desley Brooks and former Black Panther Party chair Elaine Brown and what the negative effects from that confrontation means for Black Folk as a whole in Oakland and the Bay Area. If you need to get caught up, see "What Brown V. Brooks Means For Black Folk,""What Brown V. Brooks Means For Black Folk, Part 2," and "What Brown V. Brooks Means For Black Folk, Part 3".
We left off our last discussion of the fallout from the Brown v. Brooks confrontation with a February column by San Francisco Chronicle's Phillip Matier and Andrew Ross clearly written to cast doubt on Ms. Brown's contention—and an Alameda County Civil Jury's conclusion—that Ms. Brown suffered an unprovoked physical attack at the hands of Ms. Brooks at the Everett & Jones Barbecue restaurant in the Jack London District of Oakland in the fall of 2015. ("Break For Ex-Panther Who Sued Oakland: Jury Didn't Hear About Other Dustups" San Francisco Chronicle February 10, 2018)
The longtime Chronicle columnists—known jointly as "Matier & Ross"—are among the most well-connected journalists in the Bay Area, with close ties to the corporate and political elites of this area. Much of what they write in their various columns seems designed to either influence where they want that establishment community to go, or else to give insight into where that establishment community is already going.
And so it shouldn't be absolutely surprising that the columinists used that recent "Break For Ex-Panther" column to try to trash the actions and reputation of Elaine Brown. The former Panther leader has collected her fair share of powerful establishment enemies over the decades, and there are many in high places who have a long and vested interest in preventing her from ever rising again as an influential leader within Oakland and the nation's newly-rejuvenated Black Movement.
One of the Ms. Brooks' assertions in her defense of what happened in that 2015 Everett & Jones confrontation was that Ms. Brown had been drinking heavily that night, and that the drinking played a role in what Ms. Brooks later described as Ms. Brown's threats and assault before Ms. Brooks was forced to push her away.
In support of Ms. Brooks' defense, Matier & Ross recounted in their column an attempt by the Oakland City Attorney's office to introduce information at the Brown v. Brooks civil trial about a tumultuous drunk driving arrest of Ms. Brown by California Highway Patrol officers two years before the Everett & Jones confrontation. In that 2013 incident, Ms. Brown was alleged by CHP officers to have driven her car into shallow water near the entrance to the Bay Bridge, was driving with a suspended license, and cursed out the officers who arrested her. Ms. Brown eventually pleaded guilty to DUI, according to the Matier & Ross column. Including the 2013 incident in the Brown v. Brooks trial might have helped convince the jury that Ms. Brown had a propensity for heavy drinking and violent rhetoric afterwards, which was what Ms. Brooks contended happened in their confrontation. However, the Brown v. Brooks trial judge ruled that the details of Ms. Brown's 2013 drunk driving arrest was too far removed from the subject at hand, and refused to allow the City Attorney lawyers to bring the matter up.
That should have settled the drunk driving arrest issue, as far as the Matier & Ross column was concerned. They had already brought before their readers an incident in Ms. Brown's recent past that was clearly designed to bring down her reputation. But the columnists had another purpose for bringing up the 2013 incident, apparently. Out of the blue, and making it appear as if was almost as an afterthought, the Chronicle columnists dropped this little dime in the middle of their commentary:
"According to a law enforcement source familiar with the [Brown drunk driving arrest]," they wrote, "Oakland police investigators later received a call from Alameda County Supervisor Keith Carson — who was Brown's boss at the time — inquiring about the probe."
What, exactly, did Keith Carson have to do with all of this?
Objectively, Mr. Carson's call to OPD inquiring about Ms. Brown's drunken arrest had nothing to do with the point Matier & Ross were making in the column. There's no evidence presented in the "Break For Ex-Panther" column that Mr. Carson had any direct connection with either Ms. Brown's drinking or her driving the night of the arrest, or that any of this had anything to do with Ms. Brown's employment with Mr. Carson's supervisor office.
With writers of less skill and cunning, you could assume that the association of Mr. Carson in the Brown drunk driving story had no meaning other than they needed another paragraph to fill up some column space, and didn't care if it was only marginally connected to the point of their column, if at all. But Mr. Matier and Mr. Ross are both skilled and cunning as well as experienced and well-connected, whose columns presumably are planned and vetted in the highest places. The inclusion of Mr. Carson's name in a column designed to smear Ms. Brown and her claims of victimhood was no accident. Clearly, the columnists—and whoever they represent—wanted Mr. Carson's reputation to get stuck with some of the tar coming off of this baby.
This wasn't the first time Mr. Carson's name had come up in connection to the Brown v. Brooks matter, however.
Last summer, the 2016-17 Alameda County Civil Grand Jury issued a report criticizing Elaine Brown's non-profit Oakland & World Enterprises (OAW) receipt of close to a million dollars in in two separate grants, one from Keith Carson's supervisor's office and the other from the Alameda County Board of Supervisors as a whole. The problem, the Civil Grand Jury concluded, was the fact that during the negotiations to receive the county funds, Ms. Brown was both the CEO of OAW, the recipients of the grants, and an employee in Mr. Carson's office, the agency handing out one of the grants, a clear conflict of interest that was a violation of county policy. Compounding that violation, according to the Civil Grand Jury report, was the contention that both Ms. Brown and Mr. Carson concealed that conflict of interest violation from county officials by hiding the fact that Ms. Brown was OAW's CEO.
All of this may or may not have happened exactly the way the Alameda County Civil Grand Jury concluded. There may be mitigating factors that the jurors either overlooked, or deliberately left out. Civil Grand Juries have their own agendas, after all, that sometimes include cooking the books against a particular target, or going after the improprieties of one target while ignoring the same or worse improprieties of other county or city officials. Since there's no official process for either appealing or fact-checking Civil Grand Jury reports once they've been written, filed, and released to the public, there's no real way of telling, there's no real telling how much of the Carson Supervisorial office/Oakland & World Enterprises was an objective, and how much was shaded—deliberately or not—to fit a certain pre-determined end.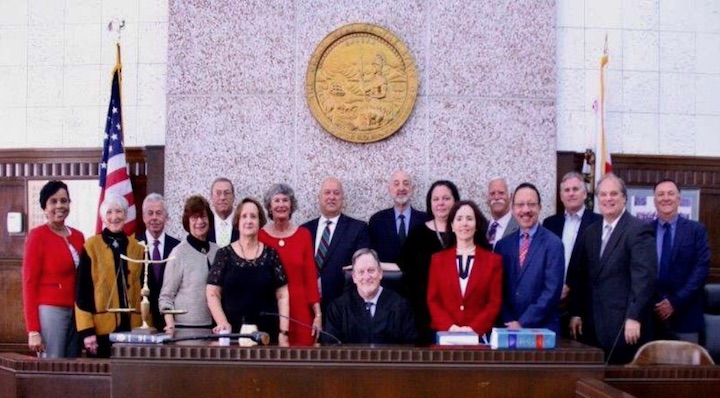 Official portrait, 2016-17 Alameda County Grand Jury
For her part, Ms. Brown denied the conclusions in the Civil Grand Jury report, calling the report "a blatant lie," according to an article in SF Bay online newspaper. The SF Bay article added that "Zachary Wasserman, OAW's attorney, said the report's allegations weren't true and he believes Brown doesn't have a conflict of interest because she has no economic interest in OAW since she doesn't personally receive any money from the nonprofit." ("Non-Profit CEO Blasts Grand Jury Report As 'Lies'" SF Bay June 26, 2017 [https://sfbay.ca/2017/06/26/nonprofit-ceo-blasts-grand-jury-report-as-lies/])
In any event, how did the allegations of the Brown/Carson county grant improprieties noted in the Civil Grand Jury report tie back into the Brown v. Brooks confrontation?
According to the Civil Grand Jury report, the county money Ms. Brown and her OAW non-profit were seeking from the county "was to be used for predevelopment costs associated with the project that OAW intended to develop, which would include affordable housing for formerly incarcerated individuals." That, if you've been following closely, was the same West Oakland housing project that was the subject of the argument that had led to the Everett & Jones Barbecue restaurant confrontation between Ms. Brown and Ms. Brooks.
That confrontation, and the subsequent filing of Ms. Brown's lawsuit against Ms. Brooks, were hot news in the Bay Area at the time this version of the Alameda County Civil Grand Jury was being brought together late in the spring of 2016. It is not much of a stretch to conclude that the widely-publicized Brown/Brooks confrontation played some factor—large or small—in leading that Civil Grand Jury to investigate the county funding of the OAW for the West Oakland former inmate affordable housing project that was the subject of that confrontation. And while Civil Grand Jury conclusions have no direct criminal consequences, unlike those of a Criminal Grand Jury, those civil conclusions now sit out there like a marker, waiting to be picked up at some future point by some entity or other and used against Ms. Brown and/or Mr. Carson. That's just how the Oakland City Auditor's 2013 Non-Interference Audit was used five years later as part of a political attack against Desley Brooks.
Regardless of who was at fault in the shove-and-fall argument between Desley Brooks and Elaine Brown at Everett & Jones Barbecue two years ago, to one degree or another the fallout from that incident has now ensnared and threatened the reputations, influence, and political power of three of Oakland, Alameda County, and the Bay Area's most important progressive African-American leaders: Ms. Brooks, Ms. Brown, and Alameda County Supervisor Keith Carson.
Can all of this be an accident or was it a conspiracy planned? Does it matter, one way or the other, how the resulting attacks came together after the original confrontation? Next time we gather, my thoughts on that, and conclusions.