If you live or travel along Oakland's International Boulevard commercial corridor between, say, High Street and the San Leandro border, you can't help but have noticed the major street and sidewalk construction that's been going on there since the beginning of the year. If you're lucky enough to be on the email list for the AC Transit Bus District, you already know that this massive construction project is connected to the transit district's soon-to-be-implemented Bus Rapid Transit System (BRT).
AC Transit's BRT—not to be confused with BART (Bay Area Rapid Transit)—is the bus district's dedicated-lane bus line scheduled to begin running down the middle of International Boulevard between downtown Oakland and downtown San Leandro sometime next year. It will take the place of the current 1 line.
When put into operation, BRT will operate distinctly different from every other AC Transit line in Alameda and Contra Costa counties, all of which provide the opportunity for direct cash payment for the ride in a machine located inside the bus, and which load and unload passengers on the right-hand side of the buses at bus stops located on the sidewalks.
While the buses on the new BRT line will remain buses, in every other way, the BRT will operate similar to a streetcar line. Rather than having bus stops on the sidewalks, BRT stops will be in the International Boulevard median, and will actually be mini-stations, with machines where riders will purchase their tickets rather than paying directly on the bus as they get on. The buses will run in bus-only lanes directly on either side of the median, and the riders will get on and off through doors on the left-hand (driver's) side of the buses.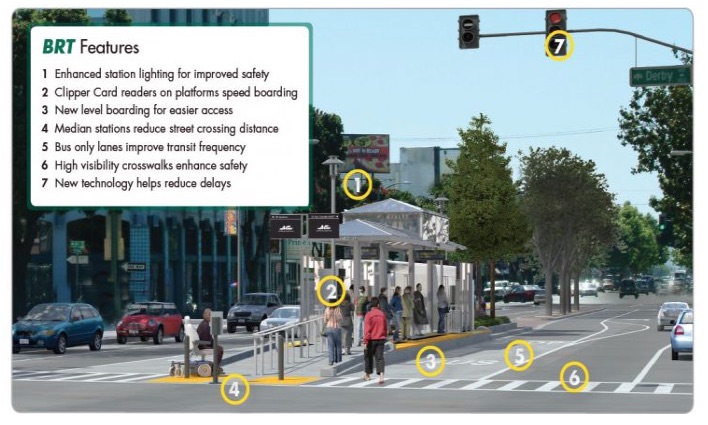 AC Transit image of BRT features and what the new BRT stations will look like
Street construction on the BRT line began early this year. When groundbreaking ceremonies were held last summer, construction was scheduled to be completed this fall, with system operation to begin in the spring of 2018.
Construction work in preparation for the opening of the BRT line has been extensive. PG&E began by laying updated underground electricity lines on International along the BRT route, then followed with a number of traffic signals in new locations, along with several pedestrian safety signals that will set off blinking lights in the International Boulevard crosswalks to warn upcoming traffic when pedestrians want to cross. Meanwhile, on long stretches of International, construction workers have torn up and reconfigured scores of sidewalks, making changes that will conform to the operation of the new bus line.
Last week, AC Transit sent out a flashy, upbeat, full-color message in four languages (English, Chinese, Spanish, and Vietnamese) to folks on its email list, describing progress on BRT construction.
"The innovative East Bay BRT project has reached an important milestone: 50% completion in two of our construction zones!" the transit district explained. "In fact, under the watchful eye of BRT's general contractor, O. C. Jones & Sons, Inc., the East 14th Street/International Boulevard corridor has transformed over the past six months. East Oakland and San Leandro residents and business owners alike can now see the tangible benefits of this $178-million-dollar construction project.
"Wondering where you'll catch the BRT in your area? Maybe you have an amazing eye for detail and the key elements of the BRT system such as pedestrian right-of-ways and traffic signals. No matter the interest, you can find answers by checking out BRT's project exhibit map."
On the website is a map of the complete BRT system, including where the new BRT bus stops will be located.
"Construction progress will continue," the AC Transit newsletter concluded. "As it does, we will keep you in the loop. Do you have questions, concerns, suggestions, or comments? Great! As always, we want to hear from you. Your feedback is very important."
Meanwhile, if you are a merchant along the International Boulevard corridor where BRT is scheduled to run, you don't even need to sign up for the AC Transit newsletter to be in the BRT information loop. Beginning last year, BRT staff members made personal contact with businesses all along the route, providing information on the project and the upcoming construction, and handing out "We're Still Open For Business During Construction" placards for those businesses whose entrances were disrupted by the street and sidewalk revamping.
If you aren't a merchant on the BRT route, however, and don't subscribe to the AC Transit email newsletter, if you're merely an AC Transit rider, or someone who lives or shops or congregates along the International Boulevard corridor where BRT is scheduled to run, or someone who votes in the elections that approve bond measures that allows projects like BRT to operate, or one of the many taxpayers who pay the taxes to support those bonds, AC Transit doesn't appear to feel it's quite so important keeping you in the information loop. If you're one of those people and you dig deep enough and ask enough questions in the right locations, you can figure out what's going on with all that street construction, but AC Transit doesn't go out of its way to keep you informed.
AC Transit's BRT website boasts a list of 105 "outreach presentations and events" between May 2016 and June 2017 at which district employees gave out information on the new system. That sounds impressive, until you realize that making presentations at job fairs and health fairs and community meetings is fairly easy work, since you're working with a captive audience. Most residents and bus riders never, ever get out to any of these events, and getting information about BRT out to them requires much more thought and work. But AC Transit is even failing to adopt even the easiest and most obvious methods of communicating with the majority of the public.
Examples?
While AC Transit buses all have a rack containing brochure hand-outs for passengers detailing AC Transit routes and bus schedules, there do not appear to be any brochures explaining the new BRT system.
Although AC Transit buses have various signs inside—along with the usual paid advertisements—giving AC Transit-relevant messages, there appear to be none that explain or or even advertise BRT, or tell passengers where they can go to get more information.
No flyers have been passed out to "ordinary," non-merchant people along the BRT line informing them of what's coming, and why their streets and sidewalks are being torn up and rebuilt.
No signs mark the locations in the median where the new BRT stations will be located, showing what they will look like when finished.
In fact, in East Oakland past the 73rd/Hegenberger divide, at least, there are no signs at all along International Boulevard explaining the BRT project.
Once, in a conversation with AC Transit public relations personnel who were inspecting the construction near 90th Avenue and International, I suggested that signs were needed along the proposed route to let residents and potential BRT riders know what was going on. Their answer? They told me that district had a sign explaining the project in the International Boulevard median in front of where the AC Transit maintenance yard is located, not far from 105th Avenue, where the BRT groundbreaking ceremonies took place almost exactly a year ago ("AC Transit Breaks Ground on East Bay's First Bus Rapid Transit Line" KQED News August 26, 2016).
That's it.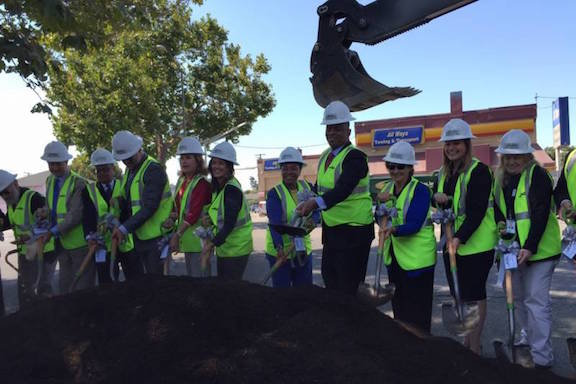 BRT groundbreaking August, 2016
Oakland Mayor Libby Schaff (center) and to her left U.S. Congressmember Barbara Lee, then-U.S. Transportation Secretary Anthony Foxx, and San Leandro Mayor Pauline Cutter

AC Transit's current policy of failure to keep most Oakland residents and AC Transit passengers up-to-date on the BRT line is both deeply disrespectful to those residents and passengers but also an enormous missed opportunity. The construction phase of BRT is AC Transit's chance to operate a year-long public relations campaign of anticipation and promotion among residents and passengers, getting them excited about both the new line and about a revamping of an AC Transit that too many feel is dirty, slow, outdated, and unmindful of the needs and wishes of riders and the neighborhoods it runs through.
And more than simply ignoring its riders with regard to giving them information about BRT, in some of its construction policies, AC Transit is actively turning off many of those riders and developing a deep anger against the bus system. But we've run out of room, so that's a subject for another column, and another day.