Oakland's official downtown and West Oakland-based Black Arts Movement and Business District (BAMBD) received a blow last week when it failed to make the California Arts Council's list of "14 districts that will serve as California's inaugural state-designated Cultural Districts." Oakland's district will not get the chance to apply for state recognition again until the California Arts Council puts its full local cultural district program in place in 2019.
Among the nearby local cultural districts that were included in the 14 member pilot project were one apiece located in Emeryville and San Rafael and two in San Francisco.
The BAMBD was the creation of Oakland Third District City Councilmember Lynette Gibson McElhaney and was authorized by the Oakland City Council in January of 2016. On paper, it runs in an eight block corridor with Broadway at the center between Chinatown and Uptown, from the western bank of Lake Merritt to the 880 freeway. It was officially set up to "highlight, celebrate, preserve and support the contributions of Oakland's Black artists and business owners" in that downtown/West Oakland corridor.
Besides the prestige of state recognition, making the Arts Council's pilot project list would have meant access to state funding and the promise that the California Arts Council would assist BAMBD in receiving grants from private sources. McElhaney's office, which was listed as the lead agency on the Arts Council application, had tentatively budgeted the small amount of money that would have immediately come with state recognition to hire a dedicated staff member to begin putting a program together to implement the BAMBD, which as yet has no ongoing projects.
But now, with the City of Oakland's failure to provide any money for the official BAMBD and without the apparent active public support of Oakland Mayor Libby Schaaf, it is difficult to see where funds to hire a staff for the district or to create any programs for it will come from.
Oakland Black poet/playwright and arts activist Marvin X Jackmon, who McElhaney once credited with helping her develop the BAMBD concept, immediately put the blame for the BAMBD's failure to get state recognition directly on the Councilmember.
"[I suggest] City Councilwoman Lynette Mcelhaney take an acting class from Dr. Ayodele Nzinga's Lower Bottom Playaz," Jackmon wrote in an email message to supporters following the Arts Council announcement. "Clearly her fake performance with the Cal Arts Council was not convincing. CAC didn't go for her top down domination of the BAMBD. She has yet acted on Marvin X's long request for banners, specifically, the African red, black and green flag, and Black/African vendors in the streets along the BAMBD corridor, 14th Street. Such a cosmetic appearance might have convinced the CAC to certify our district. Next time around, Lynette, improve your acting and stagecraft. See Dr. Nzinga at the Flight Theatre asap."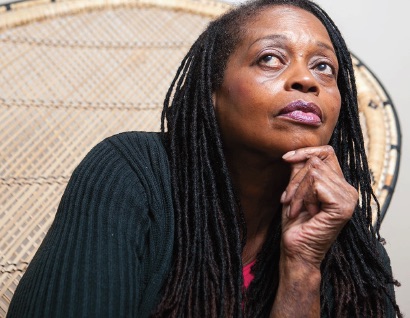 Ayedole Nzinga
Ayedole Nzinga is the founder and director of the Lower Bottom Playaz independent Black theater group. The group was originally based at the Black Dot Café in West Oakland's Lower Bottom community, but has since relocated to Broadway's Flight Deck Theater for its most recent productions. The Movement newspaper, which bills itself as the "Voice Of The Black Arts Movement International" and lists "Marvin X" as its Executive Publisher and Nzinga as its Editor, also lists Nzinga as BAMBD's lead planner.
Last summer, Nzinga filed the BAMBD Community Development Corporation of Oakland as a nonprofit corporation with the California Secretary of State's office. Along with Oakland journalist Eric Arnold, who lists himself as "Co-Director of BAMBD CDC" on his oakculture website, Nzinga has been negotiating for several months under the BAMBD Community Development Corporation name with several developers for community benefits from proposed downtown development projects.