Overflow Crowd Mourns Journalist Chauncey Bailey At East Oakland Funeral
J. Douglas Allen-Taylor
(From the Berkeley Daily Planet, August 10, 2007)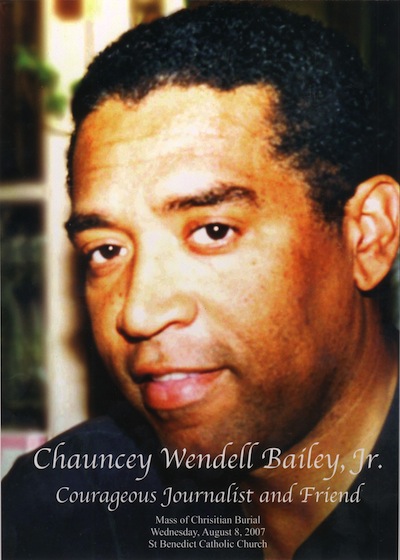 Oakland laid its second most famous native son journalist to rest on Wednesday morning, with an overflow gathering of more than 500 city officials, leaders, and citizens packing the pews and aisles of St. Benedict Catholic Church in East Oakland for the funeral of Oakland Post editor Chauncey Bailey.

Bailey was murdered in downtown Oakland on Thursday morning of last week as he was walking to work at the Post. A 19 year old handyman with North Oakland's Your Black Muslim Bakery, Devaughndre Broussard, was arrested a day later when Oakland police raided the bakery on unrelated warrants, and police say he has confessed to Bailey's murder. In his confession, police say Broussard was angered by an article Bailey was working on that was critical of the bakery. The article has not yet been published.

The murder of Chauncey Bailey—one of the first American journalists to be killed in this country in many years for working on a story—made instant headlines and topped news broadcasts and talk shows around the country, and quickly made Bailey the most famous journalist to be born in the city since Jack London.

The services included musical selections that seemed peculiarly Oakland, with a blend of African-American gospel and traditional Catholic that included Ave Maria. Bailey's coffin was rolled out of the church to the singing of the New Orleans standard "When The Saints Go Marching In" by the Oakland Interfaith Gospel Choir. Showing Bailey's influence over a wide array of Oakland residents, a long contingent of vehicles in procession to burial services at the cemetery included several motorcycles driven by members of the East Bay Dragons Motorcycle Club. Outside the church, a single club member in an East Bay Dragons jacket held up a sign reading "Stop Black On Black Crime."

Mourners heard stories about Bailey from Bailey's former wife and the mother of his 13 year old son, as well as from colleagues who had worked with him at Soulbeat Television, the Oakland Tribune, and the Oakland Post, but Post publisher Paul Cobb said that "if Chauncey could be around to prepare the story about this funeral, he would say that 'even though this is about me, Ron [Dellums] had the message.' This is the headline."

Oakland Mayor Ron Dellums gave a powerful, emotional testimony to the slain editor, his voice breaking at times, and at one point receiving a standing ovation when he said, "If we are to pay tribute to Chauncey Bailey and all who have lost their lives in this city to violence, we must at this moment embrace the quality of human life." After the crowd interrupted with applause, Dellums continued, "We cannot fall prey to fear and cynicism. We will not be cowed by fear. We will take back our community, because you will commit."

The mayor called violence a state and national "epidemic" that has "cost 16,000 lives in the streets of America," but said that he wanted it to be remembered that "from this place, we raised our voices in behalf of nonviolence, not as a tactic, but as a way to live. This madness must end. We can do it."

Dellums said that even though he "experienced Chauncey in the somewhat tenuous relationship between journalist and politician," a remark that brought muted laughter from many in the crowd who remembered press conferences begun by tough and pointed questions asked of the mayor by Bailey, Dellums said that Bailey had his respect.

"He was always there," the mayor said. "Whether it was the lone journalist watching several hundred children participate in a track meet, there he was, with a camera in one hand and a tape recorder in the other. It could be a neighborhood cleanup or a large media event, where he always asked the first question, and set the tone. We didn't always agree on perception. He had his own way of seeing things. But he had a tremendous sense of dedication to this profession."

Cobb, for whom Bailey worked in the last months of his life, called Bailey an obsessive and dedicated worker, saying one of his fondest memories was walking with Bailey to a City Hall press conference. "He got a telephone call, so he handed me his briefcase and as we were walking, he conducted an interview while cradling the phone on his shoulder, and writing it all on yellow post-it notes that he then stuck in a row up his sleeve, all the time telling me to hurry up so that we could get to the press conference. He was the editor of the paper. I was just his paper boy."

In an allusion to the story the allegedly cost Bailey his life, Cobb would not go into details, but said, to applause, "this community will know what Chauncey Bailey and I were working on, even though we have received threats." As Cobb broke out into sobs, someone from the crowd shouted out, "We're with you, Paul," and someone else added, "God will take care of you."

Cobb said the paper has continued to receive death threats that began some weeks ago, one on the morning of Bailey's funeral.

St. Benedict pastor Father Jay Matthews called Bailey an "outspoken, articulate, and often uncompromising Black Man who said what he wanted and meant what he said." Matthews said that Bailey's murderers "believed that if they got rid of Chauncey, they wouldn't have to worry no more. But let me tell you," Matthews continued, as the crowd rose to his feet, "I'm sure I speak for the mayor and all of the leaders of this community—spiritually, politically, and educationally—they should be worried. His voice will go on.
---