A Street Mural "Overlooked"
April 29, 2015
What is it about one of the most murderous sections of Oakland that folks so often seem to "overlook" the Elmhurst District out in the Deep East when they want to do good things in the city?
For example…
Over the past year, Pacific Gas & Electric corporation has begun to help beautify Oakland's streetscape by sponsoring the painting of murals on several of its substation buildings around the city.
Electric company substations are those massive buildings surrounded by electrical switching apparatuses that operate the transformation and regulation of voltage over the city's power grid. Because these substations are generally automated they don't generally have windows, so most of them present large outdoor wall space that are either uncommonly ugly in their own right, or are the targets of taggers. PG&E's substation mural project is designed to cure both problems.
Beginning in the spring of 2014, murals have been completed on the facades of PG&E substations in three Oakland neighborhoods: the Dimond, the Temescal, and, most recently, in Oakland's Uptown district on 20th and Tom Berkley Way.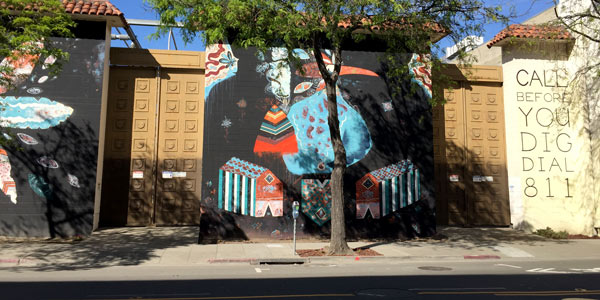 PG&E's Temescal Substation Mural
During the unveiling of the Dimond substation mural last spring, PG&E senior government relations representative Tom Guarino said that "PG&E employees live in the communities where they work, and we want to be good neighbors. When there is an opportunity to help our communities—through volunteer work, grants, or in this case, providing the canvas for some spectacular artwork—we are proud to do so."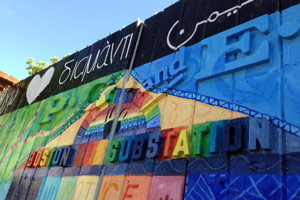 PG&E's Dimond Substation Mural
And in announcing the most recent upgrade at the Uptown substation, the PG&E press release began "Six months ago, PG&E's Substation L—located on 20th St in Oakland—had a graffiti problem. Today, thanks to some residents of neighboring Uptown Place, a local artist and PG&E, the substation is now the centerpiece of the busy neighborhood street."
All three of these newly-muraled substations, you may have already figured out, are location in middle income Oakland communities.
Meanwhile, if you happen to wander into some of Oakland's "less-than-middle-income districts," like, say, where one of PG&E's substations sits on 92nd Avenue near the corner of International Boulevard, you'll find that these locations are either further down on the list of muralization and not yet gotten to or else have been "overlooked" by the giant electric company in its efforts to beautify portions of the city.
The International Boulevard side of the 92nd Avenue substation is a popular target for taggers both because of its large, unbroken façade but also because anything written or drawn upon its wall is easily visible across the Marcus Foster Post Office parking lot to pedestrians and motorists on busy International. But the 92nd Avenue side, which faces a long row of residences, also gets heavily tagged, so that the residents have it as their main view every time they look out their front windows or walk out their front doors. Periodically, PG&E paints over the graffiti. They did so in the last few weeks. But the graffiti is always quickly replaced by taggers, as is beginning to happen already on the freshly-painted walls.

PG&E's 92nd Avenue Substation Graffiti before most recent paint-over
The situation at PG&E's 92nd Avenue substation has been going on for years, since Oakland's graffiti epidemic went into full force.
It is not clear how this situation is affected by Oakland's Anti-Graffiti law, which is supposed to impose fines on property owners who do not remove tags on their buildings in a timely manner. Clearly, if PG&E is being fined by the city, it's not having much effect on the corporation's actions.
Perhaps the 92nd Avenue substation is on the company's list for muralization, and just they haven't gotten around to it. If that's so, one wonders about PG&E's priorities, cleaning up its blighted property in some of the city's "nicer" neighborhoods before getting around to the neighborhoods more in need. And there's always the possibility that PG&E has no intention of prettying up the 92nd Avenue building's façade at all, which would be an even worse indictment of the company's sense of its own obligations.
My good friend, Oakland photo-journalist Eric Arnold, who serves as a spokesperson for an organization that has put up a large number of murals around the city, believes that murals are a major solution to most of Oakland's tagging. Generally, I don't agree with him. While I support having more murals in Oakland's neighborhoods, I think their effect on stopping graffiti is widely overblown in most cases, since most of Oakland's tagging is done on structures that will not support murals.
However, because of the wide expanse available on both streetside walls of the PG&E's 92nd Street substation, I do believe that in this case, a collaboration between PG&E and Elmhurst District-based artists to create a mural on that site would be both a marked improvement to the immediate neighborhood on its own as well as a possible—I stress the word possible—detriment to future tagging.
But I suppose we'll just have to wait and see if PG&E thinks being "good neighbors" extends beyond the Dimond, the Temescal, and Uptown and out to a neighborhood like the Elmhurst.
---
Production of CounterPoints is not paid for by government grants or corporate stipends. It is made possible only by the generous donations of interested citizens. If you're interested in helping, please see "A Leap Of Faith" Donation Page for more information. Thanks, in advance, for your help and support.
---