"THIS HAPPENS WAY TOO REGULARLY"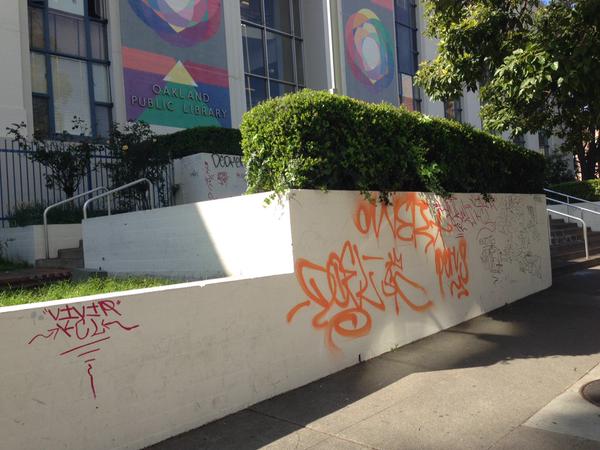 March 18 , 2015
The recent tagging of the front façade of the Oakland Main Library prompted the following March 8th twitter exchange between Oakland City Council President Lynette McElhaney (District 3) and District 2 Councilmember Abel Guillen:
McElhaney: "Tragic tagging of @Oakland Main Library, on the edge of District 2 & 3. Let's collaborate @Abel_Guillen #oakland"
Guillen: "@LynetteGM @Oakland Sadly this happens way too regularly. Looking forward to it Madame Prez."
Way too regularly, indeed.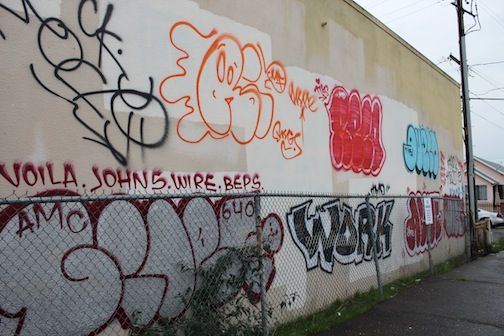 Two years ago, in response to numerous citizen complaints led by property owner along the San Pablo Avenue corridor, City Council passed an updated anti-graffiti ordinance co-sponsored by outgoing District 3 Councilmember Nancy Nadel and City Attorney Barbara Parker. The new law was designed to add to the existing ordinance by "enhanc[ing] penalties for persons who tag properties in Oakland and for property owners who fail to remove them on a timely basis," as I wrote about it in the East Bay Express at the time.
A quick look around Oakland's tag zones does not provide any evidence that the law has had any effect on stopping the wall-writing. Tagging in Oakland has been a rising epidemic for close to a decade now, and has shown no slowing down since the Nadel-Parker ordinance went into effect. The problem most acute in the city's Forgotten Lands—the streets of the Fruitvale and the flats of the Deep East and Northwest—where city and police officials appear to have simply given up on halting its spread. Tags often stay up on buildings for months at a time, and just as often reappear only a day or two after merchants or property owners paint the old ones over. Whatever the city has been doing to combat the tagging epidemic has flat-out failed, utterly, and miserably. It's time to try something different.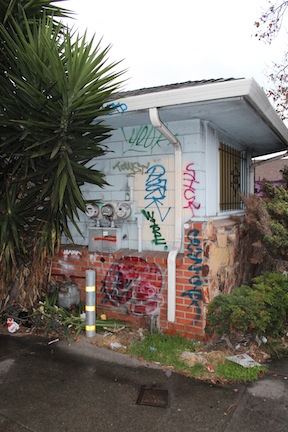 And before I get jumped on for this—although I'm sure it won't help—I'm not talking here about murals or street art, which have an important place in an urban landscape. I'm talking about the signature scrawls and messages that blot out building fronts, billboards, and fences that have no other value than to mark territory or announce the presence of whoever is doing the signing and messaging.
The graffiti problem does not rise to the seriousness of Oakland's murder and violence rate, of course, but if we used those two as our only measure of what we should be working on, we wouldn't be working on much of anything else.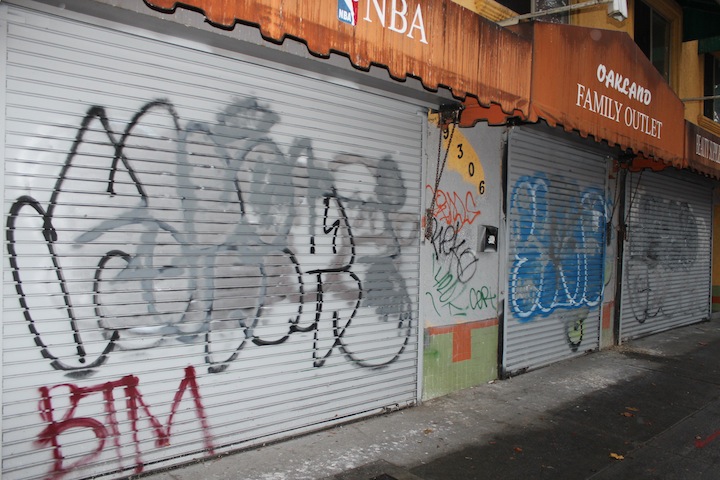 In any event, has Oakland's 2012 anti-tagging ordinance failed because the law was poorly-written, or poorly-enforced, or enforced but the enforcers were unable to keep up with the inventiveness or increase in numbers of the taggers?
Unfortunately, we have no way of determining, not from the public record, anyway. In the 27 months since the Nadel-Parker anti-graffiti ordinance was passed, there have been 45 separate meetings of the Public Safety Committee of the Oakland City Council, where reports of police-related matters are normally reviewed. Not once in those 45 meetings has the Public Safety Committee agendized a report and discussion how the new ordinance is working out.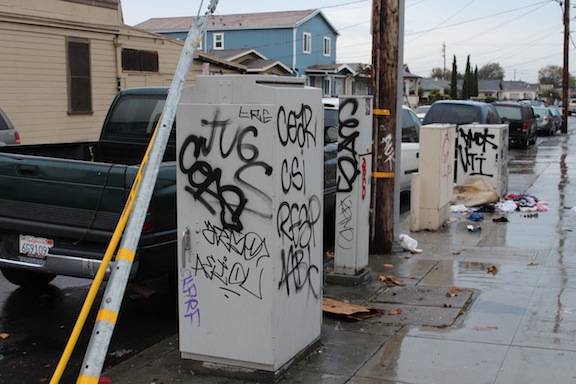 That's not how City Council operates when it thinks a problem is especially important or critical. In fact, Ms. McElhaney was an key component of one of the best examples I've seen of City Council putting that type of focus to good use.
Two years ago, several long-term businesses operating on the old Oakland Army Base—in some instances in contract with the adjacent Port of Oakland—were facing immediate eviction and possible ending of operations altogether because of problems and delays surrounding Oakland's development of its portion of the Base. Many were in danger of leaving Oakland, taking good-paying jobs with them, or of going out of business altogether if they lost their proximity to the Port.
Council Community & Economic Development chair Larry Reid made a decision to make the port business evictions a standing, open item at CED meetings, meaning that the issue would remain on the committee's agenda until the issue was resolved. Reid instructed city staff to come back to the committee with a report on the progress or lack of progress of the retention of the businesses every two weeks. He also appointed—formally or informally, I can't remember which—Councilmember McElhaney—who represents the Port and Army Base areas—as the Council's point person in the negotiations between the City, the Port, Army Base developer Phil Tagami, and the affected businesses as they tried to resolve the problem.
The result was that the issue did not get lost in the all-too-frequent city bureaucratic hole, and most of the businesses were able to remain in operation, many making effective transitions to new homes in Oakland.
I'm suggesting that a similar focused activity take place at Council to address Oakland's tagging epidemic.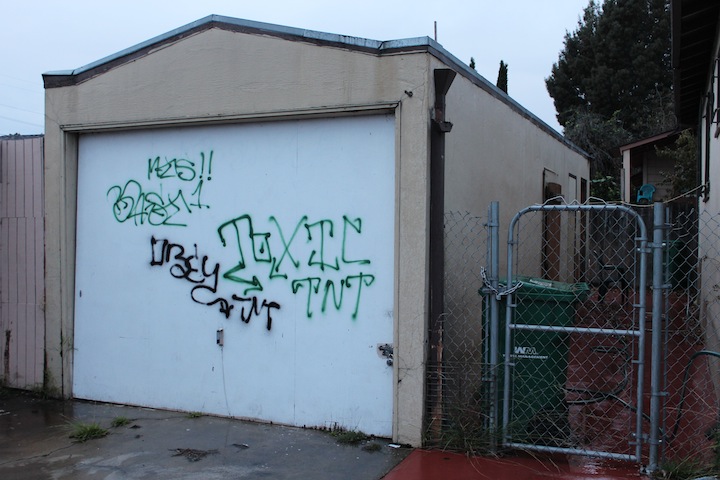 First, the Council should ask the Oakland Police Department or other appropriate city staff for a comprehensive report on the results of two years of enforcement—or lack of enforcement—of the Nadel-Parker anti-graffiti ordinance. Included in that report should be—among other things—the resources OPD has committed to the problem, the numbers of taggers caught, the result of any court action, the amount of community service required by the ordinance that resulted, the numbers of businesses owners cited for failing to timely remove graffiti, the total amount of fines levied, and some reasonable estimate—if there is any available—of both the square footage of tagging in the city in January of 2013 (immediately after the ordinance was passed) and again today.
Meanwhile, City Council Public Safety Committee chair Desley Brooks should make tagging a standing issue at committee meetings, just like Mr. Reid did with the Army base business eviction issue, requiring staff reports every two weeks to monitor the situation for the forseeable future, and appointing a point-person from the committee to keep tabs on the issue.
But action within the Council only is not enough.
When Councilmember Nadel and City Attorney Parker were drafting the original amended ordinance, they brought in a number of "stakeholders" to provide input, including affected property owners and representatives of Oakland's active muralist community such as the Community Rejuvenation Project, which has unofficial ties with many of the taggers.
Council President McElhaney should put together a similar community task force to make recommendations for either changes in the city's anti-graffiti ordinance and policies, and in the manner in which the ordinance is enforced. While it might not be feasible to bring active taggers on that task force—since active taggers want to avoid identification by police and city officials—a key task of that group would be to meet with such individuals to find out what drives taggers to tag, and what alternatives the taggers themselves might have to writing on public and private property.
It shouldn't have taken the tagging of the Oakland Main Library to spur City Council officials into action. But it's a sad fact of life that critical problems too often remain in the background of Oakland's agenda so long as they fester in the city's Forgotten Lands, only to reach "crisis" status when they bleed out into the moderate or upper income communities or downtown area. But that's too big a problem to handle right now. Stopping—or even slowing down—Oakland's graffiti epidemic is enough to keep us busy for a while.
---